1. Reading Rockets: Magenta-Gold (Levels 0-22) + Placemats, Tentcards and Bookmarks
These include for each level: Magenta, Red, Yellow, Blue, Green, Orange, Turquoise, Purple & Gold:
Reading Rockets (Learning Intentions), that can be used for each Reading Group, in order to identify the Learning Steps (These could be printed & laminated in A5, to fit in a Reading box).
Teacher Planners, that can be used on line.
Toolboxes, with the Learning Intentions in 'Student Speak' for measuring individual successes & identifying Next Learning Steps.
High-frequency (sight) Word lists/ cards
Curriculum Expectations for Years 1-3
Wall Display Posters
SRR Reading Progressions L 1-2
Rocket Wall Displays
Teaching Resources
Glossary
Teacher Literacy Reading Resources that can be used world-wide:
New Zealand
Australia
Pacific Islands
UK
USA
---
Reading Rockets (Magenta to Gold) NZD$120
21MB ZIP file containing 97 PDFs & 10 Word Documents
Special: We have added in our 'Placemats, Tent Cards, Bookmarks' Resource, which also includes extended HF word lists for Orange-Purple.
11.1MB ZIP file containing 24 Placemats and Workbook Prompts; 8 Tent Cards with 16 resources and 70 Bookmarks
Price $120 (Was $150 for both)
---
There is a specific Reading Rocket for each of the reading levels 1-22. This is just one example.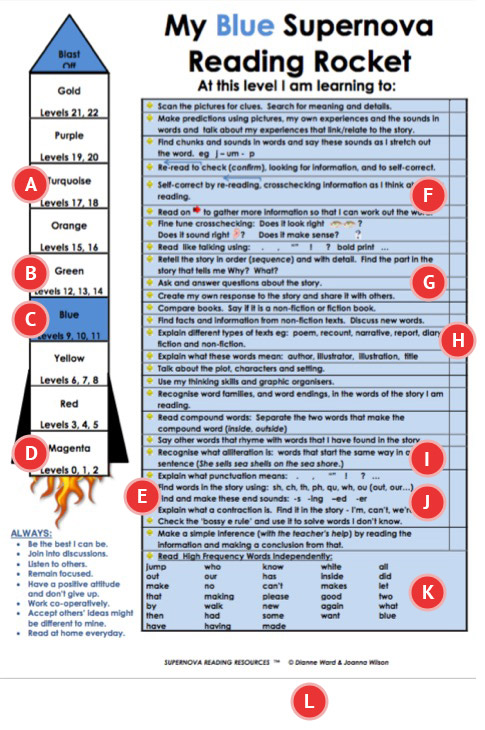 Colour and Reading Level clearly displayed as you progress through
Everyone can see where they are going to next
Reading level easily identified at a glance
Everyone can see where they have come from
Punctuation covered
Focus on Reading Strategies
Specific learning goals in kids speak
Easily checked off when achieved
Easily seen, targets appropriate to each level
Easily seen, target sounds appropriate to each level
High Frequency Words that need to be learnt to progress through each level
Prompts for self regulating and Next Steps
This is what you get with the Reading Rocket Resources: